The word Cicchetto - the singular form of Cicchetti- indicates small snacks or side dishes served in traditional bàcari - Cicchetti bars or osterie - in Venice. Discover more with us!
When you travel abroad, the first thing that allows you to get to know a culture is its gastronomic tradition.
Every place in the world has some peculiar dishes, sometimes world known and some others characteristic but secret. Think about the Japanese sushi, the French croissant, the Mexican tacos, the Italian pizza or the Turkish kebab, most people know these dishes even if they have never tried them. On the other hand there are many peculiar courses so much characteristic of a certain place that you can appreciate them just being exactly in the place where they have been created at first. Talking about these, one of the first things that occurred to our is the Venetian "Cicchetti".
Common Cicchetti includes tiny sandwiches, plates of olives or other vegetables, hard boiled eggs, small servings of a combination of one or more of seafood, meat and vegetable ingredients laid on top of a slice of bread or polenta (cold boiled cornmeal). Of course, it is important to combine them with a glass of wine; indeed when in Venice, it is never too early for an "ombra" (a shadow) as local people call a little glass of red or white wine often to drink at one gulp.
If you don't like wine, why don't you try the most popular drink in Venice? Just order an Aperol Spritz, the traditional aperitivo, and the Venetian experience will be almost accomplished. Many tourists compare Venetian cicchetti to Spanish tapas, but one of the fundamental differences between them is that while you can find tapas bar in every corner of Spain, in Venice it is better to ask someone who knows the city and give you a piece of advice so you can appreciate this habit without losing your mind.
Below a selection of five bàcari that will help you not to miss one of the best popular traditions among Venetians!
Antica Osteria alla Vedova - Trattoria Ca' D'oro
Perhaps the most renowned bàcaro, it is the only one with two names, the old and a new one.
Inside there are strange tools hanging down from the ceiling and mirrors on the walls, and a strong smell of wine pervade the atmosphere. Everyday the wine flows in torrents from the typical barrels to small glasses traditionally lined up on a wooden counter. Here you can taste the most delicious fried balls of the entire lagoon, but also any type of Cicchetti and traditional dishes like fish soups or spaghetti with clams. Since there are few seats and lots of reservations it is important to book in advance.
All'arco
Located near Rialto Market, in Rialto district, it is one of the most popular spots between authentic Venetians. You can always find delicious Cicchetti on the counter: sardines in sauce, cheese, smoked ham, shrimps, prawns and slices of crusty bread, croutons with creamed cod and anchovies with butter or, upon request, also sautéed vegetables, mixed salad, and sausages. It is open until 5 pm, more or less until the market lasts, and it is always crowded, a sign of quality. The only thing people could not appreciate is the total absence of places to seat, so you have to stay at the counter, but this is quite common in every bàcaro.
---
Might interest you ➡️ Tour of Venice Market and Tapas Tastings
---
Cantinone - Già Schiavi
In Dorsoduro district you can find the best of Venetian bàcari. Here the Castaldi family has been serving oysters and raw fish for generations, but on the counter you can find also sandwiches with "soppressa" or "porchetta" cut by the knife. The specialties of the "Cicchetti maker" include creamed codfish, meatballs, squid or sardines in sauce, toasted bread with fish, cheese, mushrooms, cold cuts and herring everything served with wine or spritz in a shot glass. All the different wines can be bought bottled too, so don't miss the chance to take home the delightful White Fragolino you won't find elsewhere!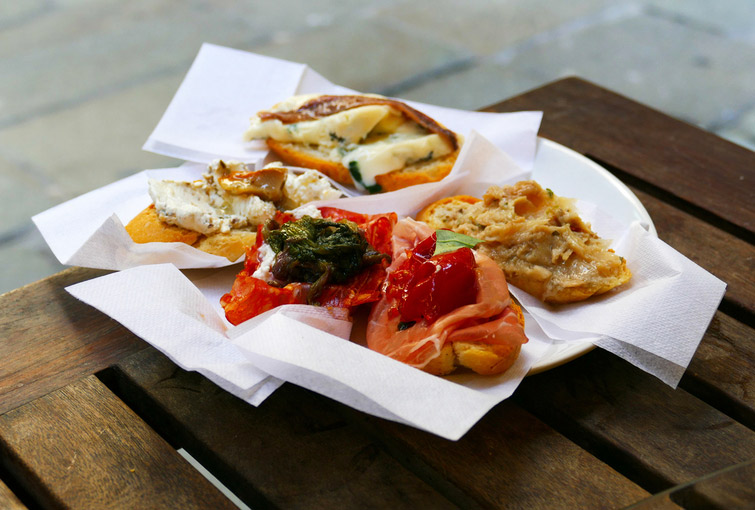 La Cantina
Located near St. Mark's district it is always crowded and it is the perfect place where to have a snack before dinner, the actual goal of a bàcaro. Every Cicchetto is going to be prepared in front of you and since there is no menu, like in every other bàcaro, the owner will be your perfect advisor. Some of the best Cicchetti here are prepared with fish, cheese, and musetto (pork nose), served with vegetables and tomato bruschetta, veal tongue and horseradish, salt beef and fresh ricotta. And if it happens that you stop there for lunch or dinner, don't miss the delicious pumpkin soup with Trevisano chicory, the homemade Cappelletti in fowl broth and the fried or stewed salt cod!
Cantina Do' Mori
Perhaps the oldest bàcaro in Venice, the story goes that it is exactly the place in which Casanova in person met his mistresses at their first meeting. Located a few steps away from Rialto Borough, it dates back to 1462 and it is really popular among tourists too, thanks to the innumerable good reviews included in lots of guidebooks.
Don't miss the traditional "francobollo" (literally postage stamp) a sandwich stuffed with chicory, gorgonzola and cold cuts; you should taste artichokes with salt and the eggplant parmigiana as well, sandwiches with musetto (pork nose) and cheese, meatballs and the classic croutons with fil'on de Toro. Combine these Cicchetti with Prosecco or Pinot, but pay attention, orders are taken only in dialect! Inside, copper pots hang down from the roof.
Cicchetti are something really representative of Venetian culture, they are not something like home cooking and their importance lies not merely in the food, but in the total experience; what counts is how, what ends where you are eating cicchetti. Combining a good glass of wine with delicious snacks is the perfect way to have a shared break!
And don't worry about your diet, after all you will stay in Venice just for few days. Enjoy the local food and once you will be back home... just say you needed a bigger area to contain the greater "experience" you are bringing with you!
Might interest you