Are you part of those people who are addicted to the Christmas period? Or are you some kind of Dickens' Scrooge, who feels Christmas is just a waste of time? Anyway, here we are. "It's beginning to look a lot like Christmas", again!
Whether you are passionate or not, one of the best traditions at Christmas is strolling around markets, mix of traditions, vintage and modern arts and food. All these elements make the city magic.
Christmas holidays are some of the best moments to visit Rome! Like almost every town, both in Italy and abroad, Rome wears its Sunday best and hosts Christmas markets in various districts. There is a range of markets of all sorts to suit all tastes.
Searching for the best gift? Here a list of Christmas markets you should not miss when in Rome:
Piazza Navona's Christmas Market
Christmas City
Mercati d'Autore
Talenti Natalizi
Frà
Market Music Festival
Borghetto Flaminio
---
Discover our ➡️ VATICAN PRIVATE TOURS
---
Piazza Navona
Navona Square's market is the most famous and oldest market in the city, probably its first edition dates back to 1860. It is a real tradition, one of the most awaited and heartfelt events for Romans, who annually crowd into the square. Its structure tries to respect the old agorà (term used in ancient Greece to indicate the main square in the city), with all the kiosks gathered in a circle.
All around you the smell of spices, sweets, roast chestnuts and candyfloss will bring you to a magic atmosphere, making it a suitable situation for the whole family. Children will appreciate the big carousel located right near the "Fountain of the four rivers".
Street artists, portrait painters and artisans make the market a real tourist attraction!
Christmas City
It is the biggest Christmas market in Rome, with more than 200 kiosks from every corner of Italy.
The huge location is the former ATAC (transport company of the municipality of Rome) warehouse in Ragusa square, and on 15th and 16th December it will host a renowned vintage market and a refined Japanese one.
Kids are allowed to take part in labs where they can make their greetings card or garland by hand. Furthermore, according to one of the most famous traditions, there will be the mistletoe so you can have a kiss under it!
---
Might Interesting You ➡️ 5 things to do at Christmas in Rome 2018
---
Mercati d'Autore
Born in 2015, this initiative brings to light the beauty and the peculiarity of the markets in Rome.
The Christmas magic turns the most important local markets –from the city center to the suburbs- into "Mercati d'autore", that is to say cultural and artistic markets. From the 7th to the 20th December, various events will liven up the kiosks usually used for food and beverages.
There will be a show cooking as well, dedicated to Christmas cakes. Furthermore, food & wine events will alternate with concerts and labs for your kids.
Talenti natalizi
This market encloses the whole Roman district "Talenti". From the 23rd of November to Christmas Eve, the entire district will be animated by shopping streets, tasting tours, music performances, street artists and circus shows. More than 50 artisans and designers, 3 street-chefs in their Piaggio Ape (a three-wheeled vehicle based on a Vespa scooter) offering delicious cooking specialties, and a Christmas secret garden will make you happy, for sure. Kids will be surprised with magic and conjuring shows and will have the chance to take part in art labs at Santa's village.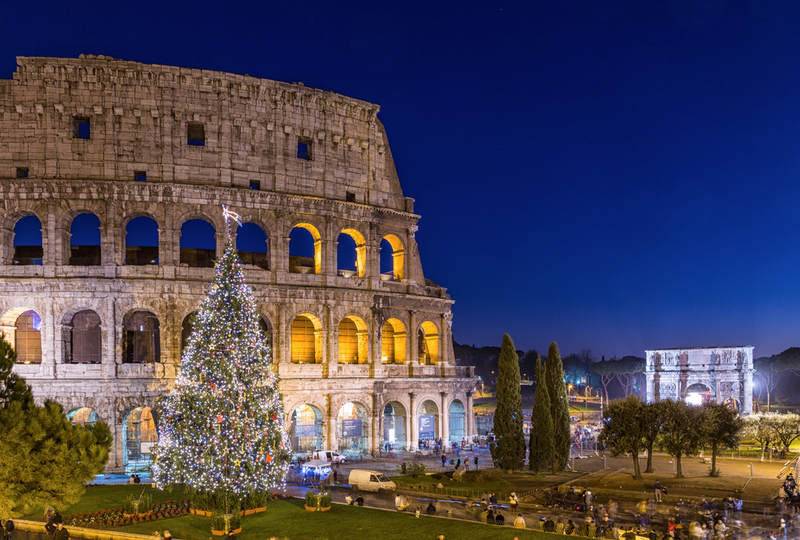 Frà
Acronym for the Italian "Fiera del Regalo accessibile", literally the affordable gift fair, its ingredients are affordability, culture and arts. This Christmas market has been created for those who want to buy presents spending less than €50 per each, without ignoring quality. De facto, everything exposed at Frà is designed, created and wrapped by exhibitors. You can choose to buy organic food, arts and crafts, music and books. Speaking of, the book section offers a wide selection of the best publishing houses, with a major attention for the teenagers.
In addition to this you could take part at the launch of new literary works dedicated to kids, who are allowed to learn the importance of recycling through a Christmas lab about products recover.
Market Music Festival
It is a Christmas market out of the box, based on creativity, visual art and music research.
The Swiss culture department of Rome celebrates Christmas with a Music Festival (15th-16th December) where DJs will alternate with live shows and visual performances. You will have both the option to listen and buy music, in fact the market offers a wide selection of new talents from independent labels, posters and high-quality merchandise. If you are looking for a refined and indie gift, don't miss it!
Borghetto Flaminio
It is one of the most fascinating Sunday markets in Rome and wears its best clothes at Christmas.
Borghetto Flaminio is considered the "Portobello road market" of the Italian major city, and it is the right place for those who want to buy polished and elegant gifts or surprise their friends. More than 200 stands offer a selection of refined vintage gifts, antiques or 20th-century products: from garments to furniture, jewelry and costume jewelry. A unique occasion to buy unusual presents and lose yourself in the attractive atmosphere of the most stylish permanent market in Rome.
Christmas markets in Rome create an enchanting atmosphere, mainly at night: the Eternal city is dimly brightening with the tiny lights of the various kiosks. Not just markets, but the entire city will offer you a hint of Christmas, you can just have a walk in the city center while drinking a delicious couple of hot chocolate or mulled wine – usually hot red wine with various mulling spices –. Meanwhile, you can appreciate all the main highlights the city has to offer, accompanied by the music of Italian bagpipes players, the "zampognari".
Are you getting the Christmas spirit?