Capri, a tiny island overlooking Naples and its Bay, is a true heaven on earth.
Located in the Tyrrhenian Sea in Campania region, Capri has been a holiday destination since Roman Empire period. In fact, Roman Emperor Tiberius built his own villa on this charming island and he enjoyed it so much, that he preferred to spend most of his time there than being in Rome.
From 1950' Capri has been considered a popular italian vacation spot by locals and foreigners as well. Famous for its limoncello and handmade leather sandals, Capri is the ideal holiday place for everyone looking for stunning panoramic views, sparkling blue sea and natural beauties. Due to its popularity, it is highly recommended to book in advance your hydrofoil tickets, departing either from Naples or Sorrento Port. In fact, most of visitors come here only on a day trip, although there are plenty of things to do and see.
--> Discover also Capri Island Tour for families
Here is a useful guide to the top 5 things to see in Capri.
1 At the top of the island: Mount Solaro
Looking for the highest point to admire a breathtaking view? With its 589 meters above the sea level, which make it easy to see the iconic Faraglioni, the Amalfi Coast and Naples Bay, there is no wonder why Mount Solaro was nicknamed "Cloud catcher" by locals. Being the highest point, it is simply recognizable both when arriving by boat and from most of places in the island. Despite its remarkable height, it is quite reachable as there are two ways to reach its top. You can either climb it, starting from Anacapri at the beginning of the hiking path, which is accessible to everyone in good health condition, or take the automated chairlift, a one of a kind experience that will make your journey even more relaxing.
2 Villa San Michele
When in Capri, you cannot miss a stop in Villa San Michele, an enchanting Villa belonging to the Swedish doctor Axel Munthe. This unique Villa, located in Anacapri, dates back to the beginning of XX century when Munthe decided to settle in Capri after having visited it when he was just a teen.
Munthe was an author too, and he loved art so much that he turned his house in a collection of amazing art pieces, which are still possible to admire today. His main aim was to build a home for his soul, as he thought it needed more spaces than his own body.
As a result, he personally designed the Gardens of Villa San Michele, with a great variety of plants and flowers: a real paradise where quietness and lovely views are the highlights.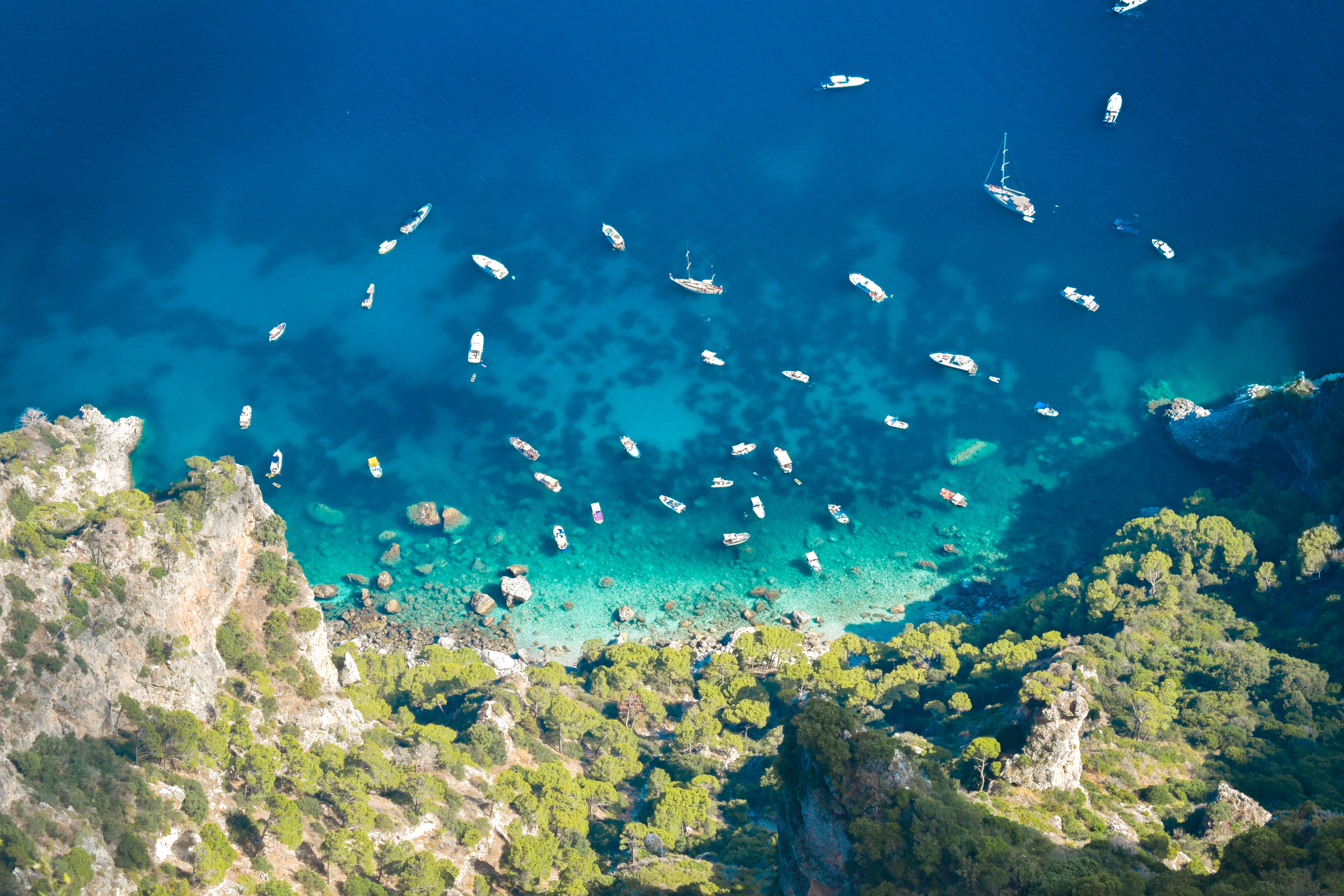 3 Blue grotto
The Blue grotto has been considered by far Capri most famous attraction. This grotto is scarcely 1 meter high and owes its curious blue halo to the way the sunlight enlightens its tiny interior. Its singular bright blue color and crystal clear water makes it definitely worth a stop along any trip to Capri.
4 Piazza Umberto I
The iconic Piazzetta, which is Italian means little square, is also known as Piazza Umberto I. Located at the drop off place of the funicular departing from Marina Grande Harbour, is the lively center of Capri. This Square and all the close-by alleys, such as Via Camerelle, are the ideal place to do shopping once on the island. Whether looking for upscale stylish shops or local stores to find your unique souvenir, Piazza Umberto I will amaze you. Do not forget to stop at local shops to taste appetizing food and glance at the vivid coloured pottery and handmade customized sandals.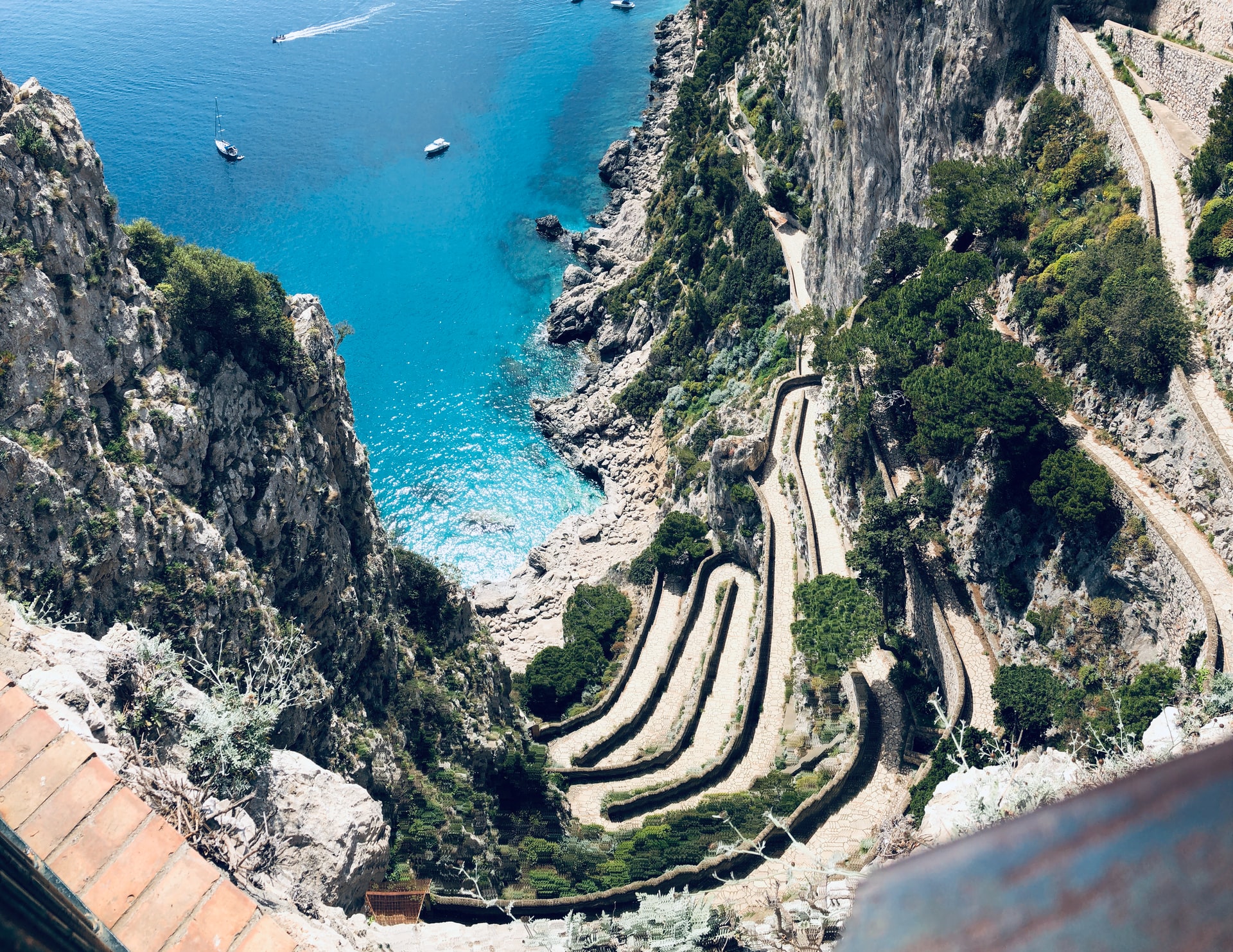 5 Gardens of Augustus and Via Krupp
Despite their slight size, the Gardens of Augustus offer impressive views of Capri island. This extremely treasured gardens are home for a huge variety of Mediterranean plants and flowers which are carefully preserved and cared, framing some of the most beautiful panoramas of bright blue Sea and cliffs created by the crashing of the waves on them. Right next to the Gardens of Augustus, the narrow winding path of Via Krupp descends towards the crystal clear waters of one of the most charming Bays in Capri. Rolling up on itself over and over again, Via Krupp is a true hidden gem to explore.
Which of the top 5 things to see in Capri you are looking forward to experience most? Share with us your experience and discover Capri with us!