Located in the Northern area of Italy, Verona, the stunning city of lovers, is one of the best Christmas day trip destinations in the Veneto region. This is a North-east area enclosed by Alps Mountains on one side and by the Adriatic Sea on the other.
Although most visitors plan a holiday there just to admire the beauties of Venice and its charming Lagoon, there are several worth-seeing towns within easy reach as well. Among them, Verona is probably the one that best matches the Christmas atmosphere with breathtaking monuments, which is the reason why it is hit by thousands of locals and tourists in December, coming there on a Verona Day Trip from Venice.
Starting in late November, Verona is dressed up for Christmas at every corner. In the city center, you can notice how the sparkling Christmas lights illuminate its must sees such as Verona Arena and the lovely house of Juliet. Whatsmore, this medieval city offers a great variety of Christmas markets, where you can both admire local handicraft and taste the culinary delights. However, Verona's most remarkable Christmas feature is undoubtedly the huge shooting star in the Old Town.
Keep on reading below to know more about Christmas celebration in Verona and its unmissable highlights.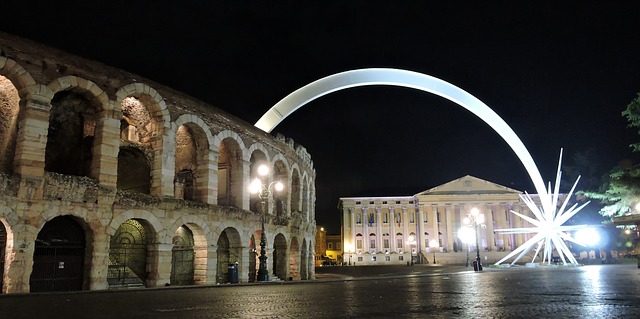 The traditional shooting star
Since 1984, the iconic shooting star of Verona has been installed every year in Piazza Bra. This enchanting Christmas decoration was first built to connect two different empty spaces: they were the interiors of Verona Arena and the main Square where it is located, Piazza Bra.
This impressive shooting star is made of white iron and it is mostly known for its huge dimension: it is 70 meters tall, 82 meters long and it weighs about 80 tons.
The setting up of the shooting star is the most awaited event in Verona as locals became so attached to it year after year. Surprisingly, it was highly criticized on the first time it was built and it was meant to be only a one time temporary art installation.
Eventually, locals decided to keep it as they conceived it as a Christmas symbol of hope.
At the beginning, this majestic decoration was linked to the Nativity Scenes traditional exhibition but later it became independent from it.
The highlights of Christmas in Verona
When December is coming, Verona offers its visitors plenty of local markets where to buy unique presents for your loved ones. The most renowned one is set up in Piazza Bra, the largest Square in Verona. Although this beautiful square is well-known for hosting the thrilling Roman Amphitheatre, it is also fully equipped with several stands where to taste italian winter sweets and find exclusive tree decorations. This market is named after Santa Lucia, who, according to local legends, on December 13th was bringing sweets to good children and coal to the bad kids.
Another memorable stop would be Piazza delle Erbe, the most ancient square in town. This lovely place has an enchanting atmosphere and it is lighted up with a myriad of theme decorations.
Finally, Piazza dei Signori is probably the best place for you if you love German style markets where you can admire rare wooden goods and find your unique handmade souvenir. Not only that, this special market is the perfect chance to savour slowly a cup of fragrant hot chocolate and a slice of the exquisite Pandoro, a traditional vanilla-scented sweet bread with an eight-pointed star shape.
Strolling through the different stands, you can find other types of italian food, like pasta, or even a glass of Vin Brulé to warm you up.
Whether you choose the lovers' City for a weekend or you are coming on a Verona Day Trip from Venice, this place has much to see especially during Christmas time. Contact us to travel comfortably on a Verona Day Trip from Venice.