When arranging a trip to Northern Italy, surely we will discover plenty of worth-seeing towns, less touristy and full of must sees. Mantua and Sabbioneta are among the ones that stand out for their elegance and deep cultural roots linked to their glorious renaissance past.
Located in the area between the River Po and the evocative Lake Garda, they are at a short distance from the main city nearby, Verona, which can be easily reached by train or car in less than one hour. As a result, they are the perfect match with Verona Private Tours for a weekend about italian renaissance literature, art and history.
Being off the beaten tracks, both Mantua and Sabbioneta gained a special status among the destinations with high quality of life in Italy, where it is possible to enjoy a quiet atmosphere, friendly locals and impressive masterpieces. Both these beautiful towns were under the influence of the Gonzaga Family, who adorned them with refined colonnades and buildings which are defying time with their beauty. Their charm, in fact, is the reason why they are listed among Unesco World Heritage Sites since 2008.
Today we are going to disclose anecdotes and highlights of the two lovely cities that belonged to the wealthy Gonzaga, and their not too far behind past.
Mantua and its roots
Mantua is a special getaway for anyone who is into literature, art and nature. It benefits from a privileged position, surrounded by the bright blue waters of the three lakes coming from the river Mincio.
Despite the first settlement dates back in the Iron Age, it is only under Romans control that Mantua developed as a relevant centre. After more than thousands of years, its most famous citizen who also is a roman poet, left an indelible mark in local legends. We are talking about Virgil, to whom a bronze sculpture is dedicated in the square named after him.
Later between the XIV and XVIII Centuries, Mantua housed one of the most sumptuous courts of all Europe by the order of the Gonzaga. The Gonzaga were a powerful family who deeply changed this fascinating city both with breathtaking art pieces, such as frescoes and gardens, and with urban renewal works, such as brand new walls with five gates to protect the royal residence.
Whatsmore, Mantua surely deserves a special mention for its primary role in the development of Opera Music and literature: Shakespeare in fact portrayed it as the location where Romeo escaped from Verona. It is no surprise that the stunning Mantua is an incredible open air museum that was awarded as Italian Capital City of Culture in 2016.
What to see in Mantua
The old town of Mantua is packed with historical highlights which date back to the Renaissance. Probably the most thrilling legacy of Gonzagas, Palazzo Ducale is a monumental royal residence, the 6th largest in Europe. Each member of the family in fact enriched the former building with a new area for himself and his beloved art pieces. Today, Palazzo Ducale counts more than 500 rooms, 7 gardens and 8 courtyards plus the so called Camera degli Sposi which includes the magnificent frescoes by Andrea Mantegna, who depicted in an illusionistic way the story of Ludovico Gonzaga and his descendants.
Another unmissable stop is definitely Palazzo Te, the finest work designed by the italian architect Giulio Romano. Mostly a leisure venue for the Duke, Palazzo Te strikes the visitor with its peaceful atmosphere and the lovely gardens that match with the majestic colonnades and its walls decorated with niches and blind windows. There is no wonder why it turned into an iconic landmark.
Sabbioneta: the ideal city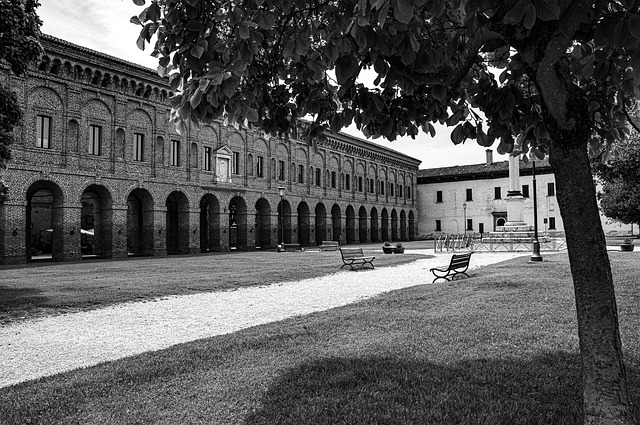 Let's move to the dazzling town of Sabbioneta, also called the ideal city. It gained this singular nickname as it was founded and created in only 35 years by Vespasiano Gonzaga, who shaped it according to his idea of beauty with refined classical architecture features.
Vespasiano was a military man who was interested in elegance, art and literature. He knew that he would have never ruled Mantua, so he built a city where he could be the Duke. Today, Sabbioneta is one of the best preserved examples of Renaissance art.
The true gem of Sabbioneta is the Teatro Olimpico, probably the first theatre of modern age, provided with a sophisticated structure, decorations and links to the roman period.
Would you like to plan Verona private tours and a day trip from Verona to Mantua and Sabbioneta? Get in touch with our staff and we will be ready to help you!