The lovely city of Cremona, located in Northern Italy by the river Po, is a must see for music lovers. Cremona in fact is the hometown of some of the most renowned composers of the XVI Century such as the illustrious musician Claudio Monteverdi, known for the development of Opera music between Renaissance and Baroque, and Amilcare Ponchielli, an Opera composer too.
Cremona centenary luthiers traditions handed down from father to son turned it soon into the so-called "City of Violin" with more than 100 artesans shops. Today, craftsmen still keep on making high quality instruments and their excellent handmade works are considered to be unique in the world. As such, in 2012 Cremona was named among UNESCO Intangible Cultural Heritage due to its skillful Violin making techniques, which have been improved and assembled year after year without any industrial material, in fact Cremona's violins are all handmade.
Whatsmore, Cremona is the birthplace of the Italian luthier Antonio Stradivari, who is highly esteemed for his ability as violin maker and many other craftsmen who carried on local traditions. Let's get lost in Cremona Violin's music.
The Traditional Violin Craftsmanship in Cremona
The Traditional Violin Craftsmanship of Cremona developed a personal way of making a violin. Local artisans in fact take care of violins from the very beginning, when choosing the wood type until the end of the process: for this reason a violin maker can only produce from 3 to 6 violins per year.
Luthiers of Cremona use more than 70 different types of woods to make a violin. Each of them is important in a particular moment of the making, it is carefully selected and seasoned. Moreover, every part of this evocative instrument requires a different technique and it is shaped according to the acoustic response of the wood. This means that each violin won't be never exactly the same as another one.
Who is Antonio Stradivari
Antonio Stradivari is probably the most relevant luthier in Cremona. He developed his activity between XVII and XVIII Centuries, beginning very slowly and then starting to conceive his personal way of making string instruments such as violins, cellos, guitars, violas and harps.
During his productive career, he made more than 1000 instruments and half of them survived throughout time. Together with his fellow artisans, Stradivari defined the standards and the ways to make violins which are still in use today.
What to see in Cremona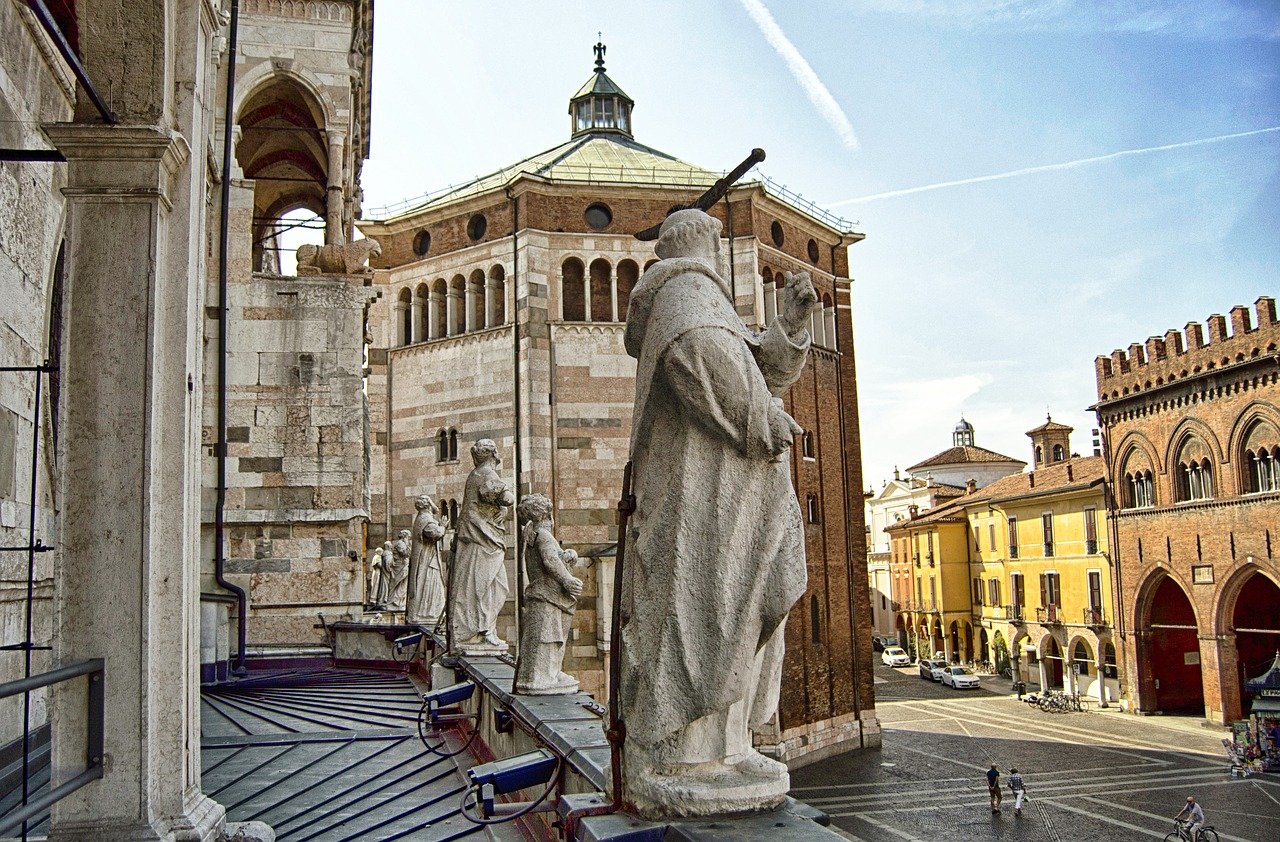 To dive into ancient music knowledge, there is nothing better than paying a visit to the Violin Museum during Cremona Tours. The Violin Museum of Cremona is located in the city center, in Piazza Marconi. Once inside, you will be surrounded by a multimedia exhibition about Violins and their making techniques. Whatsmore, this is doubtlessly the greatest collection of string instruments of this area.
During Guided tours in Cremona, the medieval Torrazzo is a must see. Not everyone knows that Cremona is famous also for its beautiful medieval and Renaissance architecture, whose hints can still be seen while strolling around in the city center. The Torrazzo hosts one of the largest astronomical clocks in the world and it is the real symbol of this stunning city. Located just by the side of Cremona Cathedral, Torrazzo is a medieval bell tower actually built to include a smaller tower inside.
On the same medieval Square, it is possible to admire the impressive Cathedral dedicated to the Assumption of the Blessed Virgin Mary, built originally in the XII Century in Romanesque style. This breathtaking Cathedral, which had witnessed different changings in style, has Gothic, Renaissance and Baroque elements as well.