Let's disclose all the secrets you should know about one of the italian major artists of Renaissance and his paintings.
Considered to be one of the most significant painters of the whole history, Raphael played an essential role in Vatican heritage development, enriching Pope's collection with his unique works. In Italy, this year we celebrate the beauty and wonders of his artworks, remembering him 500 years after he exhaled his last breath.
Since he was just a young boy in Urbino, a small town in central Italy, Raphael came in contact with a huge variety of painters and poets who were members of the local court. His father, a painter too, was used to get artworks commissioned by aristocrats and the Duke himself. In fact, he ran a thriving atelier where Raphael spent time gaining the essential art knowledge. Despite the loss of both his parents during his early years, Raphael never gave up his ability as artist: he instead, worked as apprentice for Perugino, and tirelessly learned how to conceive his masterpieces.
Being just an adolescent he started traveling in Italy, visiting the most prosperous cities, such as Città di Castello, Perugia, Siena and Florence, where he obtained his first commissions as independent artist. Through his trips, he had the opportunity to meet and become close friend of many other artists, such as Pinturicchio, besides, he studied the works of other masters as Donatello, Michelangelo and Leonardo. This helped him both to improve his techniques and make the acquaintance of people from wealthy social classes.
Meeting the Pope, Julius II
In 1508, Raphael met the person who changed his life forever: Pope Julius II. Unexpectedly, he received an official invitation to Vatican from the Pope himself, proving his undeniable estimation of the young painter. Indeed, the Pope was very impressed with Raphael knowledge of art and techniques, considering his age.
During this time, Pope's main aim was to renovate and adorn Rome and Vatican, for this reason he got in touch with the most relevant artists of Renaissance, such as Michelangelo and Bramante as well, asking them to work for him.
Today, some of their best works are still preserved in Vatican Museums and St. Peter's.
Raphael Rooms
Raphael Rooms are certainly one of the main highlights of Vatican and for sure they are worth a stop. Originally, these rooms were meant to be Julius II private apartment, who desired to show its majesty.
They consist on 4 different spaces connected one another, which were soon covered with frescoes by Raphael. Each room has its own name and different frescoes. One after the other you will encounter the Room of Constantine, Room of Heliodorus, Room of the Signatura and lastly Room of the Fire in the Borgo. Indeed, Raphael masterpiece was the fresco representing the iconic School of Athens, an impressive piece of art.
This fresco depicts the most famous philosophers and mathematicians such as Plato and Aristotle, having a conversation in an ancient building designed in a perfect architecture perspective that witnesses Raphael background as architect as well. Did you already know that Raphael hid a self-portrait in this fresco?
Raphael tapestries in the Sistine Chapel
During February 2020, 10 of Raphael most precious pieces had been shown to visitors again, after almost 40 years: they are the stunning Raphael tapestries, located in the Sistine Chapel. These timeless works that Raphael created for Pope Leone X, reproduced breathless scenes from the sacred Bible, showing remarkable episodes of the life of St. Peter and Paul. Unfortunately, Raphael never had the chance to admire all tapestries he carried out inside the Sistine Chapel, as he suddenly died a few months after their production.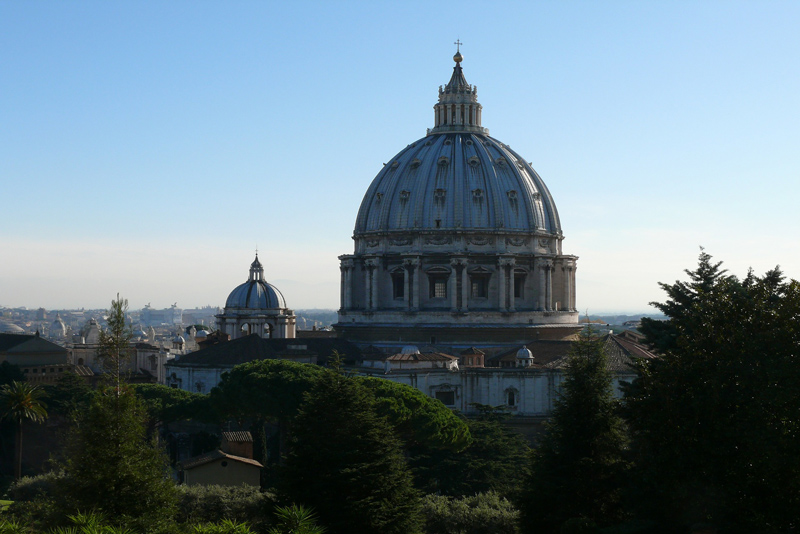 St. Peter Basilica
So many artists contributed to the success of the mind-blowing St. Peter's Basilica construction. Among them we name Michelangelo, Bramante and Raphael too. Although Michelangelo's undeniable influence over the final project of the Basilica still stand today, Raphael's contribution to the Basilica is undoubtedly outstanding, as we can comprehend from his drawings.
Would you love to discover more about Raphael at Vatican Museums? Contact us to arrange the tour that fits most your needs!