When you think of traditional Roman cuisine, you don't immediately think of sweets, but we mustn't forget that the variety of tarts, cakes and cream puffs is almost infinite.
The most famous Roman sweets are maritozzi with cream, sour cherry and ricotta tart, frappe at carnival time, ciambelle al vino dei Castelli Romani and pangiallo at Christmas time.
Loved by young and old alike, it is a must try if you come to Rome, you can easily choose one of the pastry shops in the city to enjoy an excellent maritozzo perhaps combined with a good cappuccino or espresso.
The maritozzo is the classic Sunday breakfast, I still remember when my grandparents used to take me to the city center for breakfast with cappuccino and maritozzo.
The typical Maritozzo recipe
The real recipe for maritozzi dates back to ancient Rome, when they were prepared as a gift for future brides, hence the name maritozzo, meaning husband, in Italian marito. They were given on the first Friday in March and inside you could also put a ring or other small gift.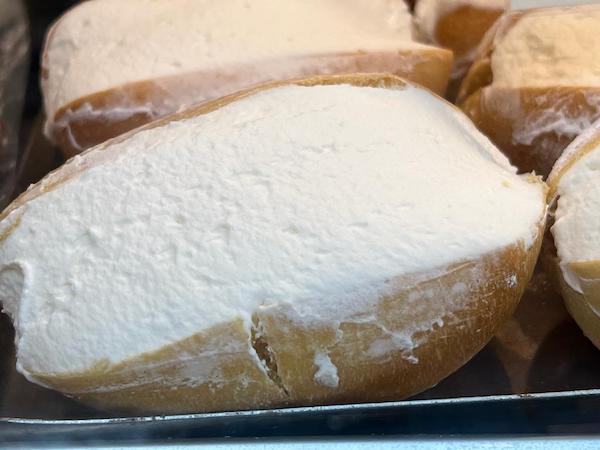 For the best and fluffiest Maritozzi ever!
Difficulty: medium
Preparation time: 25 minutes
Cooking time: 25 minutes
To prepare the maritozzi with cream, start with the leaven, melt the brewer's yeast in the water together with the sugar and flour. Let it rise for about 1 hour. In a bowl, add the egg, sugar, milk, oil and flour. Then add the yeast and orange zest to the mixture. Knead the dough until it has a soft and elastic consistency. Leave the dough to rise for about 6 hours in a warm place. Shape the dough into elongated rolls and place them on a baking tray lined with greaseproof paper and leave to rise for at least 45/50 minutes. When the "maritozzi" have risen, brush them with egg and milk and bake at 180° for about 20/25 minutes. When they are cold, fill them with whipped cream.
We can't give you the exact doses because the one I have given you is my grandmother's secret recipe.
It is up to you to experiment and try many recipes.
Take advantage of one of our Private Food Tours in Rome to taste this delicacy and much more.
As we say in Italy "BUON APPETITO"