Rome is not only Vatican and Ancient ruins from Empire Era. For all those willing to discover an off the beaten track itinerary focused on the early XX century, an Art Nouveau Tour of Rome is a must do!
Art Nouveau is an international art style of French origins, developed between late XIX century and early XX century all around Europe. Artists from different countries who belong to this movement had a related style, but not exactly the same. They strongly refused artistic movement of academic art from the past. On the contrary, they were inspired by natural forms, plants and flowers with curved lines as well as exotic objects from faraway lands, as a reaction to the past. This style has been known under different names in each country where it developed.
Think about the Austrian Wiener Secession artists, among which we remember Gustav Klimt, Catalan modernism in Spain and Gaudì unforgettable architectures, or the so-called Liberty Style in Italy. All these artists can be named among the Art Nouveau group, that is innovative also because they not only dealt with paintings but also architecture, jewelry, furniture, graphic art and many more.
Liberty Style in Rome
Italian Liberty style is called this way due to the very popular colourful textiles coming from the Liberty store in London, that was the most fashionable in town. During early XX people were crazy about that kind of clothing so the trend was widespread in Italy soon as well.
Is it necessary to pay and enter a Museum to discover such an original type of art? Of course not. You can just take a relaxing walk to explore the XX century in the city center.
Galleria Sciarra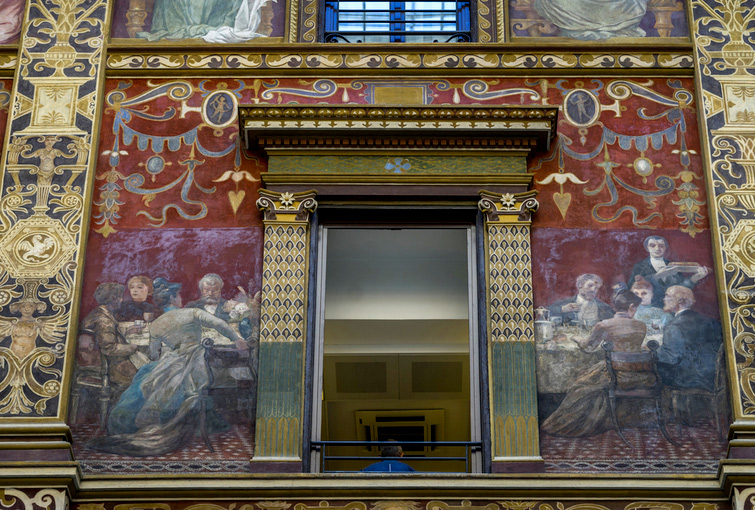 The construction of this building dates back to the end of XIX century, when the Italian Government decided to move the Capital city from Florence to Rome. This was a great change for Rome, which required works of modernization as well as reorganization. Galleria Sciarra was built on 1886 by the order of prince Maffeo Barberini – Colonna Sciarra. This brand new construction had the main function of connecting his own private mansion to the headquarter of his newspaper agency.
The project of this building included a pedestrian courtyard area surrounded by the walls of the building which has on the top an iron vault. Walking along Sciarra Gallery you can find images representing XIX century bourgeoisie feminine figures.
Galleria Sciarra is open Monday to Friday during working hours.
Coppedè area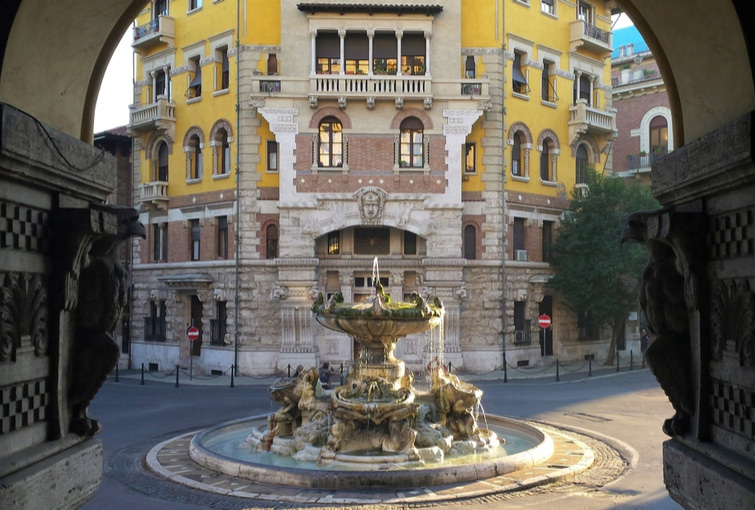 Coppedè is a little borough belonging to the bigger Trieste District, located right next to the city center between Buenos Aires Square and Tagliamento street. It is not a real district itself but just an unexpected spot characterized by buildings made by a mixture of Liberty, Gothic, Baroque e Medieval style.
Coppedè borough takes its name from the architect Gino Coppedè. He planned and populated this unique area with fairies and many other imaginary creatures who will make you feel like being in an extraordinary town, far away from the common roman must-sees. You will easily recognize the entrance to Coppedè area when you see a great Arch connecting the Ambasciatori palaces, with an old decorated wrought iron chandelier hanging from above.
Let's proceed towards the square at the end of the road and you will get to Mincio Square, the real heart of Coppedè borough. Here you can admire the Frog Fountain, that owes its name to the 8 little frogs from which water flows into the basin below.
Among the most relevant constructions here we can name both the Villino Delle Fate (Fairy House) and the Spider Palace. The first is the real masterpiece of this area: looking at its exterior you will find out how symbols of some of the most renowned Italian cities (poets Dante and Petrarca for Florence, Romulus and Remus for Rome and a Lion with a sailing ship for Venice) are connected one to another, creating a one of a kind building.
Might interest you
Villa Helene – Andersen Museum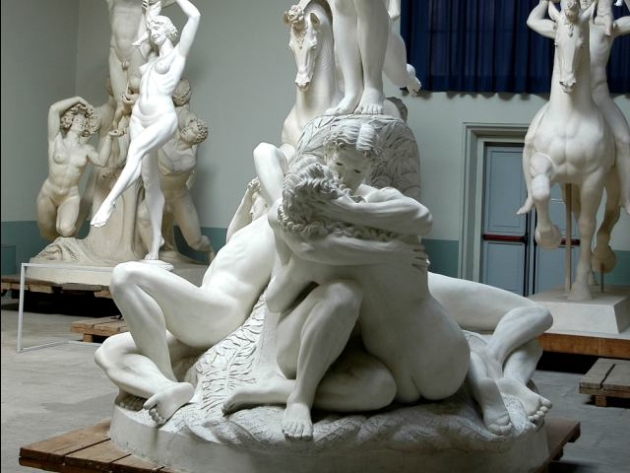 Maybe you don't know that the worldwide known Danish writer Andersen stayed in Rome during his travels around Europe and this city gave him the inspiration to write some of his best novels. Villa Helene, located in the city center between Popolo Square and the river Tiber, is now a Museum dedicated to Andersen, which bears the name of this beloved mother.
When he died, he gave his Villa to Italian government authority that turns this building into a Museum dedicated to him. If you are looking for a peaceful and less crowded place to visit along your itinerary, that's the place you should not miss out! The villa was built during the early 1920s on three floors which now host sculptures and beautiful frescoes most of them created by Andersen himself.
Casina delle Civette
Located inside the charming Villa Torlonia, Casina delle Civette is nowadays a museum. It is called this way (House of Owls), due to the recurring representation of owls along the walls, sculptures and windows of this fairy tale liberty style location. All in all, there is much to discover in a big city such as Rome, so whether you prefer classical itineraries or you wish to know more about last century art and architecture, I am sure you will enjoy your time here.